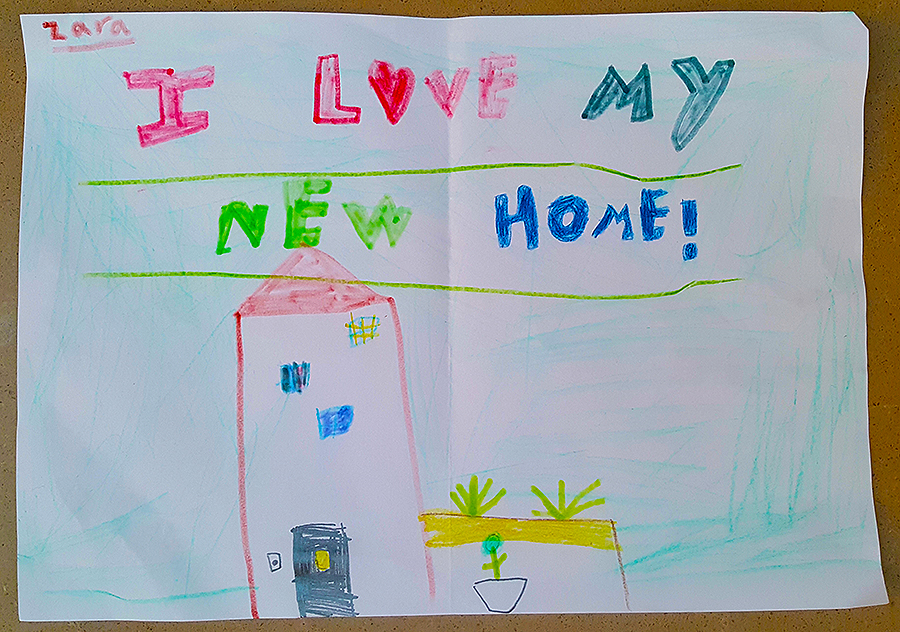 This is the best testimonial we have ever got !!!
Thank you Zara

---
Testimonial for All4House:
Waldek and his team did a Kitchen Extension and reconfiguration of our ground floor in 2019. They did an excellent job, from the planning stages with ourselves and our architect, to final completion and sign off of the project. Work was done to an exceptionally high standard and any unforeseen problems were quickly identified and solutions found. Communication was good at all times and the team were pleasant and hard working. We are very pleased with the end result and would not hesitate to recommend All4House.
Best wishes
Liz & Huw
Herne Hill

---
We recently used All4House to perform a side extension and internal remodelling on our home.
We would not hesitate to recommend Waldek, Emil and their team – who always made sure all work was completed to a high quality standard, and it is clear that this is important to them.
We stayed in the property during the development and found everyone to be polite and courteous throughout the process.
They were tidy and respectful, and finished the job within timescales discussed.
Waldek was regularly onsite, and always available for meetings and catchups whenever needed.
Rachael & Ben
Tulse Hill

---
We can recommend All4house without hesitation.
They carried out a complex job for us involving both a loft extension, extension to the rear, new kitchen, and new bathrooms.
The work was carried out to a high standard and within the agreed timeframe. Waldek and his team were reliable, hard-working, and professional. All4house liaised effectively with the architect, glazers, carpenter, and carpet fitters. The various small problems that arose due to the age of the building were resolved promptly and often with good solutions proposed by All4house.
The end result is a house that we are very happy with.
Erik
Herne Hill

---
Reference for All4House
We are pleased to be able to supply this reference for the work of Waldek and Emil and their company All4House following their work on our house 2015-16. They have replaced all the wiring and plumbing, constructed storage cupboards, replaced and repaired ceilings and redecorated all rooms, followed by construction of a kitchen extension and patio and installation of new kitchen units. They have completed this extensive programme on time and in budget, they have provided constructive and helpful advice throughout with regular consultation, and developed innovative solutions to overcome any problems encountered during the work. The All4House team have consistently provided a high standard of finish, and their workers have been polite and tidy, and we would unreservedly recommend them.
Chris,
Herne Hill

---
All4House carried out two separate projects for us. Firstly, external works to remove exterior render on a front elevation and make good the brickwork, to repair cracks in the brickwork, to replace a brick course on the roof and some exterior painting of windowsills etc. This work was carried out to a high standard and to an agree budget. Any additional work identified during the project was subject to clearly agreed extra costs. The exterior of the house was also kept as tidy as possible during the building.
The second project was a complete kitchen refurbishment and installation of an understairs toilet. This was a major piece of work which involved gutting the existing kitchen, replacing the floor, removing a chimney breast, re-sizing windows and doorways, installing damp-proofing, full re-wiring and re-plumbing (including relocating the boiler) and installing the new kitchen itself. Similarly the understairs work involved a complete renovation of a previously unimproved cupboard space. Emil and Waldek also helped us to design the kitchen and suggested ways of tackling possible problems.
All the work was carried out to a high standard and disruption to the rest of the house was kept to a minimum. We discussed the work daily and agreed how individual elements would be dealt with. In addition, we agreed any additional work including costs before any action was taken.
We are very happy with the final outcome from both projects and would certainly use All4House again.
Phil,
Brockley
---
Stephane and I were more than happy with the work that All4House completed for us in early 2014. The craftsmanship of their work is excellent. The team were a pleasure to work with, they were always punctual and very polite, and they were very respectful of our home which is an important consideration when choosing the right tradesmen. All4House prided themselves on their cleanliness and they always tidied up at the end of the day. They were respectful that we were living here whilst work was being completed. There was never any mess in rooms that they were not
working in, and they cleaned the bathroom every day once they had finished cleaning their brushes. We also liked the way in which they worked; the team discussed all the work with us in detail, not only before they began, but throughout the whole process, giving us an update as they worked. This gave us confidence and trust in the team. They were understanding of our limited budget, and they adapted to work within this budget without compromising their standards. They were honest about the length of time work would take to complete the work.
I am a wheelchair user, and the team were very respectful of my access requirements. They understood why they could only work in one room at a time so I could move freely around the flat and this made me relax.
We would happily, and confidently, recommend All4House to our family, friends and colleagues.
Suzanne and Stephane
Notting Hill
---
ALL4HOUSE
This is to certify that I have employed this company on three separate properties: two complete re-furbishments and substantial building works on a third. They have been responsible for the full range of building works and have given complete satisfaction on all three projects. Their work has been of very high quality and they have worked reliably to estimated costs. Their workers have been cooperative and helpful at all times. I have no hesitation in recommending them to others.
Yours sincerely
Charles,
Clapham
---
I cannot recommend All4House enough.
They worked to a budget and on time. They were always courteous and excellent at communicating with us throughout the project. Their approach is meticulous and intelligent when it comes to problem solving. We are delighted with what they achieved and are so grateful for their hard work.
Robert & Chloe,
Shepherds Bush
---
All 4 House are the best builders I've ever used.
Waldek, Emil and their team are punctual, polite, clean, tidy, and extremely reliable.
We used to complete a new bathroom, renovate the old bathroom into a utility room, and complete several other small jobs around the house.
They were able to meet our specification and design exactly, and followed up on any issues that arose that didn't meet our specification even after the job was completed.
I would highly recommend them to anyone.
Shoumojit,
Hackney
---
Testimonial – All4House
Waldek and Emil were recommended by my wife's colleagues in the Housing Service at London Borough of Southwark. Previously we had used the same firm of builders on the house for about 15 years so we had a standard to compare with.
All4House tendered for all external decs to our 4 bedroom semi detached house in East Dulwich. There are two large bay windows and a balcony with door and windows and pebble dash/stucco at the front and 5 windows and complicated antique conservatory windows at the back with lots of small frames.
The very first thing to say is that All4House were not the cheapest quote. A single handed painter and decorator offered a cheaper less specific quote which I accepted. Then he kept delaying and so I went back to All4house. They responded promptly and revisited to check the specification and agreed a start date immediately.
The second thing to say about Waldek and Emil is that they are both 'gents'. That means they are polite, respectful, attentive, tidy and considerate. In other words a delight to have in your house. Nothing was any problem, negotiating day to day changes in the job was straight forward. The quality of the work was simply 100%. They did not work long days or ever seem to be in a rush, but worked consistently and with great focus on the task. Preparation, filling and sanding down which is always the first aspect to be rushed by bodgers, was performed with painstaking attention. They are both artists with the brush and I could not find one paint drip on inspecting at the end.
The site was always kept tidy and cleaned up well at the end.
The house looks nicer than it ever has.
Well done All4House.
Dr Patrick B,
Dulwich
---
Reference
Waldek and Emil did a fantastic job converting our old kitchen and breakfast room into one space and installing a new kitchen.
They came well recommended by others, but exceeded our expectations. Not only were they a pleasure to have around, their attention to detail, organisation and project management took a lot of the stress out of a major building job.
Any changes to the spec from our side were accommodated quickly and without complaint, and their tidiness while on site was so efficient it was difficult to believe that we were having any building works done!
The finished 'product' was completed on time, to a very high quality and is a joy to come home to.
I cannot recommend ALL4HOUSE highly enough and would have no hesitation in using them again.
Thanks W&E!
David and Claire
West Dulwich
---
Waldek and Emil did a very good job indeed on our flat.
Their attention to detail on what were complicated and fiddly jobs was excellent.As we live abroad, we really appreciated the way we were kept updated on the progress of the work through photos and regular emails.
I would use them again without hesitation and I would recommend them to any landlords living abroad.
Paul,
Notting Hill
---
We heard about All 4 House through a work colleague who was very pleased with the service they had provided. We have since recommended them to a number of friends and colleagues looking for reliable, skilled decorators.
All 4 House re-painted our entire home and installed radiators and a new bathroom suite. They also laid wooden flooring and tiled both the kitchen and bathroom. All the work was completed to a high standard.
Waldek and Emil were extremely reliable and proved flexible and happy to offer advice both regarding materials and our options. Each day, our home was left tidy and the inconvenience of having our home decorated whilst we lived in it was minimised.
We were kept informed of progress throughout the project and it was clear throughout the process that All 4 House took customer satisfaction very seriously.
We are happy to recommend All 4 House!
Darren & Rageshri
Stepney
---
ALL4HOUSE – Waldek and Emil were fantastic.
They were friendly, tidy and unobtrusive. They finished the job on time, on budget, with a 'can do' approach to issues that arose during the works. This, and their meticulous attention to detail, means that the wetroom is superb, absolutely top quality.
I have already booked them in to work on a new kitchen next.
I cannot recommend them enough!
Cheryl,
Arsenal
---
We used All4House to completely renovate our bathroom.
They had been recommended by two work colleagues who had been really pleased with their work. Compared to previous work we have had done we were really impressed with the clear time-lines given and Waldek's want to clarify exactly what we wanted along the way. They were clean and tidy and always courteous and discreet. The work they did was of a really high standard and we remain really pleased with the results.
Thanks very much Waldek and Emil!
Andy,
Shoreditch
---
Dear All4house
I want to thank you for the wonderful work that you have done on our house. It has been a source of complaint of mine for some years and the difference is amazing. The ceiling in the lounge has been repaired, painted; the walls have been stripped, replastered, papered and painted. The internal doors have been reglazed, painted and look beautiful. The amount of work was considerable and the price very reasonable. You are also very tidy. The outside of the house now also looks as good as the inside.  It is a pleasure to pull up outside and come home and sit comfortably and feel proud of the old place again.
I am a very happy customer.
Thank you
Roslyn,
Dulwich
---
We were very fortunate to have had Waldek and Emil (ALL4HOUSE) to completely refit a bathroom in London E1.They were a little more expensive than the other two quotations but the end product is so fantastic that it is worth every penny spent.
As we live in Peterborough and were not always in London to oversee the work we were apprehensive, (having already had problems with a previous builder) but we did not need to be concerned as they were very professional, very attentive and did not forget any of the points we made on our earlier meetings.
They were great at giving advice where needed and were always good at sorting out any other jobs. By the end of their time with us they had refitted the bathroom, fitted new work tops and tiles in the kitchen and sorted out some problems that the previous builder had left us with.
We have no hesitation in recommending All4HOUSE and we most certainly will use them again.
We just need to persuade them to come and do some jobs in Peterborough now!
Sarita and Sunil,
Whitechapel